What do well optimised Facebook ads look like? Well, below I have compiled a list of some of the best ads currently running on Facebook.
Facebook and Instagram in 2018 held 27.6% of the UK's digital advert market and they are set to continue thriving. According to eMarketer market research company, they are set to increase their market share by 9.8% by 2021.
Google has always been an authoritative platform to Facebook, but looking at eMarketer's forecast, Facebook is set to overtake Google to become the dominant force in the industry. Advertising on Facebook will become even more lucrative. Importance for ad quality,  engaging and original content will be crucial for success.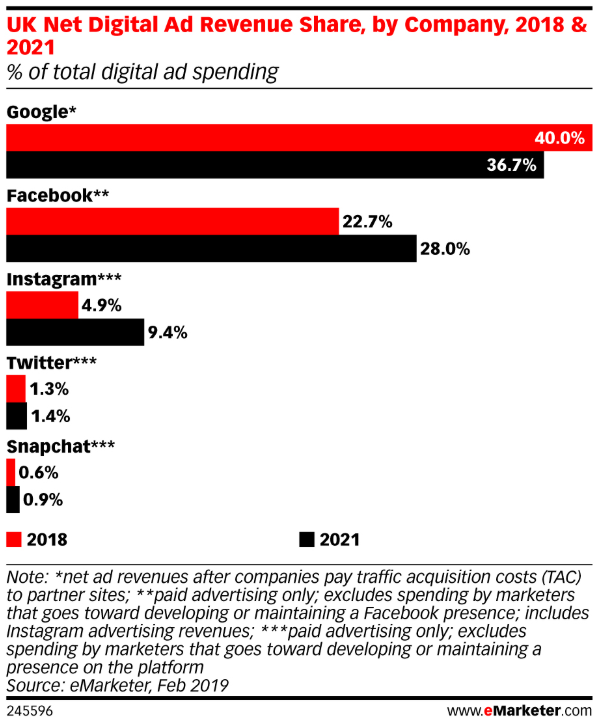 Today, there are around 1.45 billion daily active users on Facebook. People from all different walks of life. And whilst Facebook is a community-based platform, engaging with them from a marketing standpoint is a growing difficulty. But with well optimised Facebook Ads and the right target audience can help advertisers see a positive return on Ad spend.
City Pantry – Food delivery service.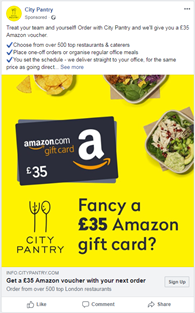 With over 8.4 million yearly users of food delivery platforms a year in the UK, the market is very saturated with the market giants such as UberEats and Deliveroo, making it difficult for new companies to break through and attract customers. By piggybacking off of one of the most successful brands Amazon, this causes people to stop scrolling and actually read the ad – this is a good way for new brands to gain recognition.
Why This Ad Works
It's visual. Although it's just a static image, it stands out from the rest of your feed with the bright imaging, bold text a familiar, well-known logo. It very clear and matches their branding.
It's promotion led. The advert is clear that they are offering £35 Amazon gift card with people's orders. The main focus is the promotion, which draws people in before they even know what the product is. This is an effective way of catching people's attention.
It has a clear call to action. If you want to sign up, there's a 'Sign Up' CTA button to the bottom of the ad which leads you to more info and a sign-up form.
Ben & Jerry's – Ice cream company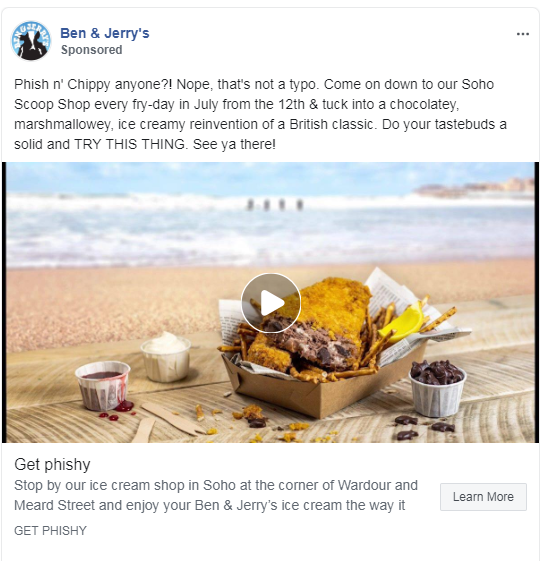 Using a video on Facebook ads generally, receive 10-30% more views and can populate up to 11 times larger in news feeds. Ben & Jerry's have managed to make the ad short and sweet which is relevant to the point of the ad which makes it much more memorable than if it were just a static image. The drop off point for a facebook ad on average is around 2-3 seconds, so by making this ad it lowers the chance of people dropping off.
Why This Ad Works
A clear call to action. It's an event-based ad, a successful event ad should have at least two important qualities: the event's schedule and something to justify why people should attend. The ad above for Ben & Jerry's accomplishes both of these things – it says when it'll be on and also makes you feel like it's a limited offer that you can't get any other time.
It's visual. A very short video, around 2 seconds, which loops. A visually very intriguing product combined with the length of the ad makes you want to know more. The play on words in the ad copy is also very visually effective in adding humour.
Adidas – Sports Clothing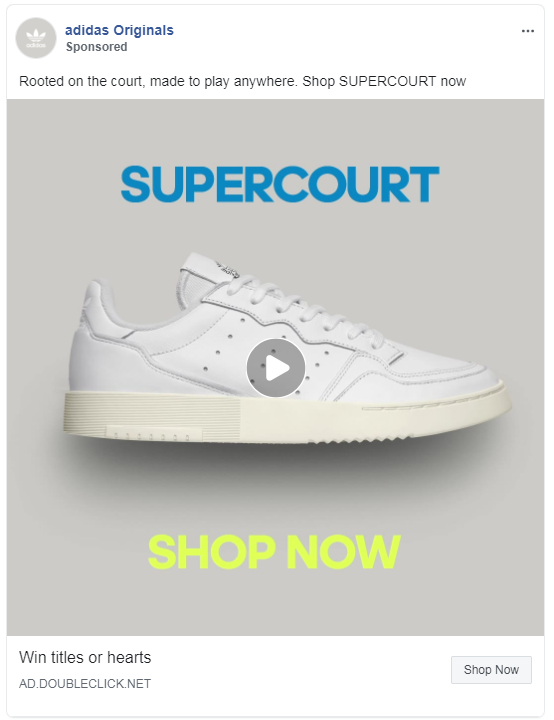 There's a lot of ad content on Facebook, and when Facebook users scroll through their News Feeds, that content starts to blend together. Sometimes your best chance at sticking out on Facebook is by using subtle movements and details – like Adidas have done, above. Let every other video on Facebook be quick and flashy, and yours will be a breath of fresh air to your audience.
Why This Ad Works
It's visual. It's uber-simple with simple messaging on a white backdrop. As this is a very product-focused ad, keeping all the text very minimal helps the product stand out.
A clear call to action. Repetition of 'shop now' really enforces the call to action. It does display urgency by including 'Now'.
Airbnb – Holiday home rental service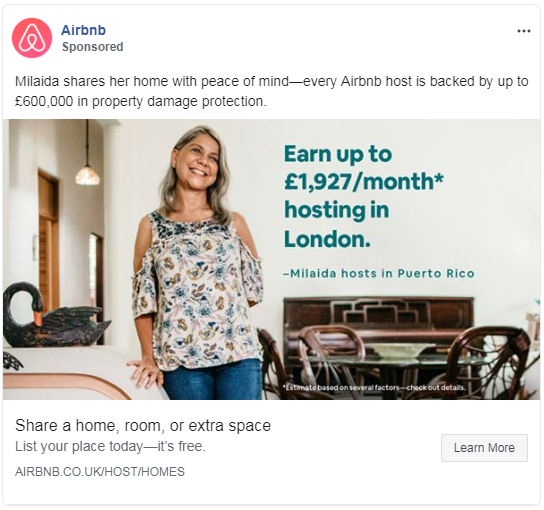 Why This Ad Works
It's relevant. It's used location-based targetting, by having a geo term tit allows the ad to be relevant to living in London. This is a very easy way to make ads more relevant to the audience, making the product seem more accessible
A clear call to action. 'Share' 'list' and 'learn more' – the use of multiple CTAs throughout the ad and Placing a CTA after each persuasive technique increases the likelihood of conversion throughout the ad.
5. KIND – Snack company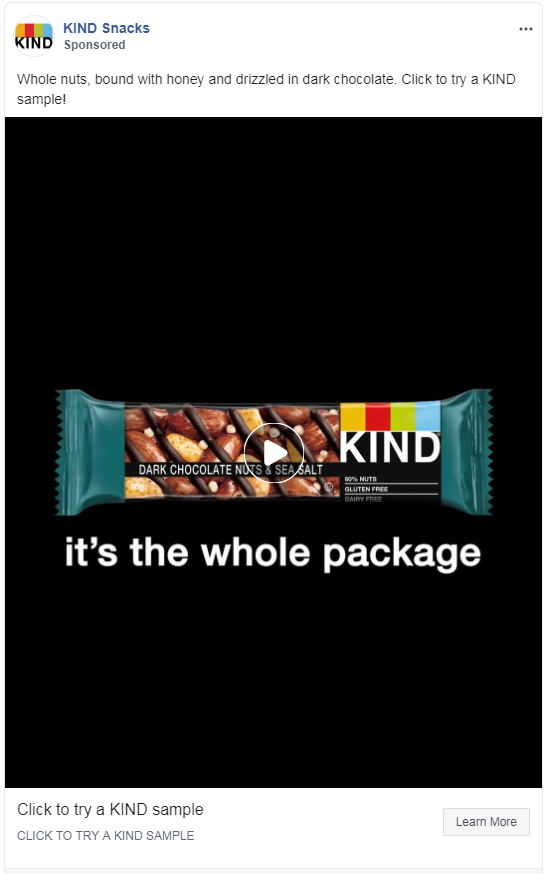 Facebook's algorithm actively prioritises video content. By using a video, your advert is much more likely to find its way onto people's feed. Not only that, but it's more engaging as a format. Statistics show that more than half of daily Facebook users watch videos on the platform every single day.
Why This Ad Works
It's visual. This video by KIND, snack, uses a very simple black background for the product. The video in total is only 11 seconds, It catches your attention by using simple white messaging on the black background, throughout the video. It displays the product well making it clear what's in it.
A clear call to action.  Uses a promotional CTA by offering to try a KIND sample. The wording of 'try a sample' is very persuasive implies that it's free to try and most people can't refuse something free.
Wimbledon – Tennis tournament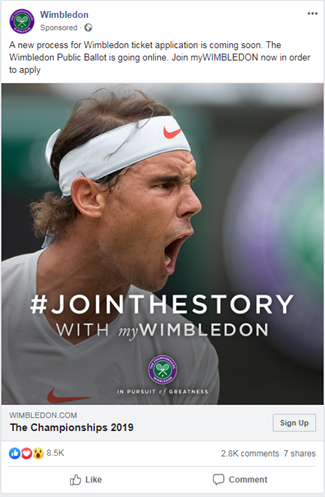 Not every advert needs to be focused on sales. In fact, studies show that we tend to tune out when we see too many. We're so used to seeing adverts online that we automatically ignore them. Instead, look for other ways to obtain value from your advert.
Why This Ad Works
It's visual.  It uses a high-quality image of a famous, well-known tennis player. The messaging is short and to the point which makes it clear to what the ad is conveying to its audience.
It's relevant.  Wimbledon has just been, meaning the hype around high. People will be curious about how to get tickets for next year. This is a remarketing campaign for people who've previously applied for tickets which means they have a higher intent to apply again.
A very clear call to action.  The call-to-action is repeated throughout the ad which is a historically popular persuasive ad technique. There is also a very clear way of signing up with the CTA button at the bottom of the ad which is relevant to the ad.
The takeaways from all of these ads is that relevance, a strong call to action, being visually interesting and when necessary to be promotionally led when trying to produce a successful Facebook ad. Along with the mentioned qualities above, there are 3 final fundamental points to take away:
Your Facebook ads should try to promote something specific.
Your ads should always target a related audience, and your offer should try to be unique to that audience.
Your ad link should always direct traffic to a dedicated post-click landing page.
To understand more about KMG's creative pack for Social Advertising, get in touch with your Account Manager.