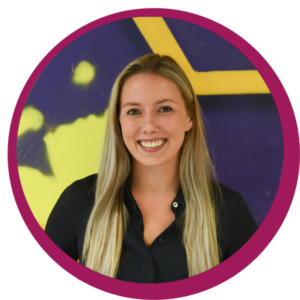 Meet Sophie, KMG's Head of Paid Social and go-to expert on all things Facebook & Instagram. She comes from the Land Down Under, which is obvious at the first sign of snow – you'll find her jumping up and down excitedly at the office window!
Could you explain a little more about your position as Head of Paid Social at KMG?
So as Head of Paid Social I'm responsible for overseeing all of the social campaigns we run at KMG – whether that's Facebook, Instagram, Snapchat, Twitter or LinkedIn, you name it! My job is to keep on top of the latest developments in the paid social sector, train & develop the team, and make sure we're implementing all the best practices to run winning social campaigns.
Describe a typical working day for you as Head of Paid Social at KMG?
First thing in the morning I'll usually make a big cup of coffee and check the news and my top blogs for any developments – Facebook are releasing new features & reports almost every week at the moment. After that I'll spend the day managing & optimising my accounts, for example, taking a deep dive into some audience data, setting up new campaigns or rolling out fresh creatives. Most days I'll meet with other members of the team at KMG to review our social campaigns and make sure everything is in good shape and we're driving great results for our clients.
What made you go into digital marketing?
I started my career in more traditional marketing, working on email campaigns & print advertising and so on. When I got my first taste of digital, I just loved it – you get immediate feedback on how your campaigns are performing, it combines analytical and creative skills, and it changes so quickly, there's always something new to learn. From there it was a no-brainer to move into this industry.
Why do you like being Head of Paid Social?
Social media platforms, for better or worse, have completely changed the way we live our lives. I've been an almost daily Facebook user for 10 years, an Instagrammer for 7, and an advertiser for almost 5 years – I feel like I know these channels inside and out, and as Head of Paid Social, I can use that knowledge to help our clients. There is so much opportunity on social for businesses to grow and connect with their customers, and I love helping our clients maximise that opportunity.

What has been your favourite moment working at KMG?
From day one working at KMG has been awesome, it has the best culture and workplace environment I've ever experienced, but my favourite moment has got to be the ski trip. It was an absolute blast and we had the best time, and made me so glad to be part of the big KMG family.
What is the biggest challenge of being Head of Paid Social?
Keeping abreast of all of the changes happening in social advertising – there's new features and best practices all the time. Keeping my knowledge up the date and ensuring we're always updating our campaigns to try new things and incorporate new recommendations is a challenge.
What are you excited about in digital at the moment?
At the moment I'm particularly excited about WhatsApp joining the Facebook advertising platform (which at the moment includes Facebook, Instagram, Messenger & Audience Network). I think this is going to be a game-changer for UK businesses. Click-to-WhatsApp ads that take your customers directly to a WhatsApp conversation with you, so they can book in an appointment directly? Genius!
If you didn't work in digital, where would you work?
Funnily enough, I think I'd be a vet! I'm an English major and love working in media, but my other passion is animals, and I think if I hadn't gone down the road I have, I would have become a vet instead.
Where do you see KMG in 10 years?
I see KMG being the UK's leading digital agency, with a bigger team, more happy clients, and international growth.
What do you do in your free time?
Like most Aussies living in London I love to travel, and try to cram in as many weekends away to Europe as I can.
Give us an interesting fact about one of your colleagues.
Aimee, one of our Account Managers, is actually a triple threat athlete—she used to do cheerleading, ice-skating & trampolining.
And Finally, in 3 words, how would your friends and family describe you?
Determined, energetic, and talkative.