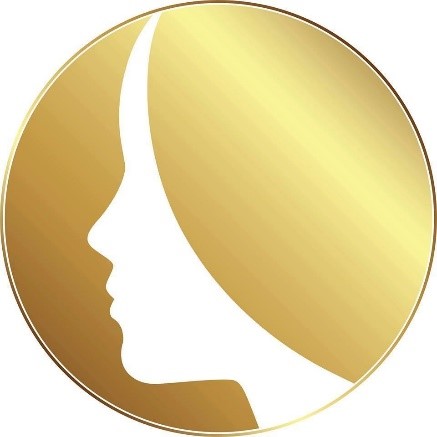 Client Name: Harley Street Face Doctor
Representing: Private Beauty and Aesthetics Clinic
Company Background: Harley Street leading non-invasive Facial Aesthetics Clinic specialising in PRP, Non-surgical Facelifts, Botox, Vampire Facelifts and Threadlifts.
Client Journey with KMG: Harley Street Doctor invested into an omni-channel marketing strategy with KMG ie Facebook best practice. Both channels work in conjunction to generate demand and compliment each other. This means that they advertised on Google Ads through PPC and Social Advertising on Facebook & Instagram. Both channels support each other, Facebook creating an incubator of demand for Google.
For Facial Aesthetics, social advertising is where the target market is browsing. With influencers and models posting on their stories and on their news feeds, it is important for businesses to seamlessly appear amongst the scrolling.
We also trialled lead forms on Facebook, a form that populates on Facebook without the user leaving their social media feed to test engagement rates.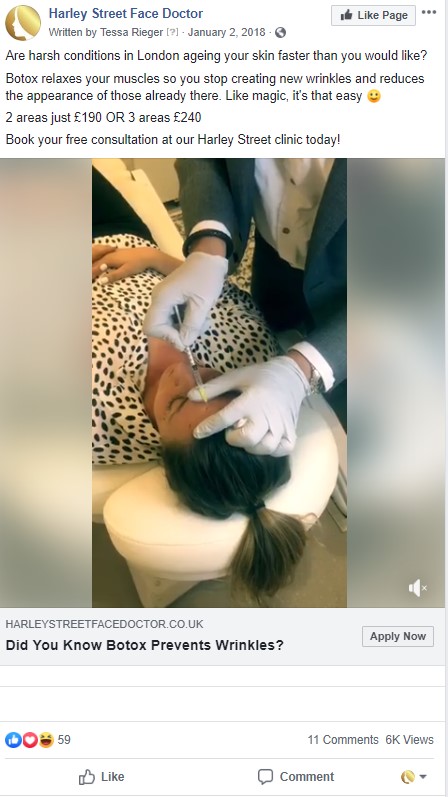 Performance:  The omni-channel strategy has been a huge success with Google PPC enjoying a 3 times return on their advertising spend and a 20% conversion rate. The Facebook lead forms proved very effective in driving a high volume of new business enquiries. They generated on average 50 lead forms a month, reaching 13,100 people and an astonishing £12 cost per lead. The re-marketing strategy re-engaged non-converters on their Instagram and Facebook. People responded well to the positioning and the offer on the website. The price match guarantee proved invaluable.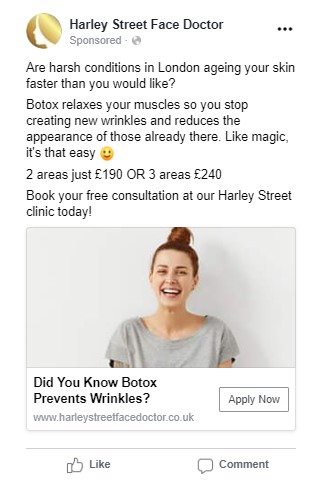 KMG consulted on Harley Street Doctor's website so that it was conversion optimised and had their price match guarantee at the forefront of their offering. This made them able to be competitive with every business on the market – online and offline. Our targeted Google Ads campaign has a geographical keyword strategy, a national strategy and a hyper-local one. We run a highly engaging Social Advertising campaign with video Ad creatives as is best practise from Facebook.
Does your digital marketing need a facelift? – get in touch with KMG today.