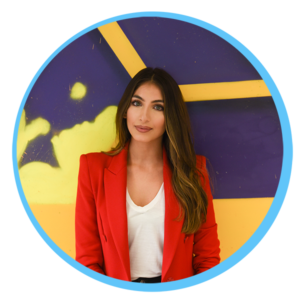 Meet Miss Sharon Kang, a Strategy Consultant here at KMG. Not only is she crowned the best dressed in the office but she donated 17 bags of unworn clothes recently to her grateful friends and colleagues. She is smart, kind and a Jenga champion. We sat down to discuss her role in the team.
Could you explain a little more about your position as a Digital Marketing Consultant?
My role predominately is to digitise businesses. In order to do this, I need a deep understanding of what the business needs from their marketing spend and put together a strategy that would help deliver the most return on advertising spend.  A huge part of this role is to have a deep understanding of my client's business itself and how it operates alongside a wide knowledge of all online channels. It is a hybrid role, so I manage my accounts as well as acquire new business to build a personal portfolio of clients.
Describe a typical working day for you as a Digital Marketing Consultant at KMG?
My commute to the office is around 90 mins long, so I have some extra time to check my emails and prep for any meetings, I have that day. Once I am in the office, I find myself re-organising my to-do list in accordance to what is most urgent as opposed to what is most important. As mentioned, my role is two-fold and so half the day is dedicated to managing my current accounts and sitting down with the account management team, delivery team and clients to assess performance as well as uncovering new business opportunities and pitching for new accounts.
What made you go into digital marketing?
I have my own fashion label online and so I have a vested and personal interest in learning about all things digital.
Why do you like being a Consultant?
It is a very unique role that harbours a lot of key skills that I value: communication, problem-solving and deep analysis of data and trends.  I am plugged into so many different businesses from high-end lift companies to dermatology clinics so it is never a dull moment. I love how varied each project is and working out a strategy that can ultimately help a business grow.
What has been your favourite moment working at KMG?
Earlier this year we went on a Ski Trip to Chamonix and I have to say it has been one of the best trips I have ever taken.
What is the biggest challenge of being a Digital Marketing Consultant?
Finding a balance in my role especially with time management.
What are you excited about in digital at the moment?
I would say more intrigued…Ever since I did my thesis on the issues of sharing personal data online, I am very intrigued by the latest developments in the new trend of digital banking. Now with Brexit and not being privy to EU directives, GDPR, what other advancements will there be to replace and improve privacy laws since the Data Protection Act 1998?!
If you didn't work in digital, where would you work?
Could be anything from a buyer for a fashion house to a consultant within a software company…
Where do you see KMG in 10 years?
With several offices globally, with a focus on KAU Labs and developing technology that helps read patterns and trends within datasets.
What do you do in your free time?
The nature of the business like my role is KPI led and so it's quite intense. And so, my free time is mostly dedicated to unwinding and channelling my creativity through designing fusion wear for my Fashion label.
Give us an interesting fact about one of your colleagues.
Tessa used to swim for NZ competitively. She also represented her country for Irish dancing!
And Finally, in 3 words, how would your friends and family describe you?
Creative, determined and loyal.