Client Name: Abbey House Dental – Implant & Sedation Centre
Representing: Dentistry
Company Background: As a dental practice who specifically specialises in dental implants in Stoke-on-Trent, Staffordshire, Abbey House Dental strive to better themselves and go on a path of continual improvement to benefit everyone. They offer NHS and private dental patients for a range of specialist treatments.
Client Journey with KMG: We started dental implants advertising on Google Ads with Abbey House Dental last year. At that time we strategised and decided to support this baseline campaign with a burst campaign on Facebook, with the idea to book up a series of open days.
The Ads for the open days would promote the benefits of the free consultation for attendees. Please see below for an example of the Social Advertising Ads.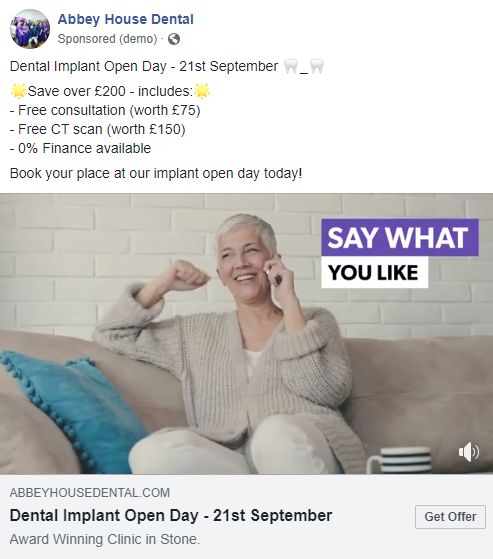 This saved a lot of admin time for the dental staff that normally dealt with consultations one at a time and it created a buzz around the procedure. It was very time efficient this way for Abbey House Dental team. For this we used Facebook lead forms to capture people's interest without taking them out of their social media news feed.
Performance: The open days were a success with a typical day consisting of 12 cases going ahead and 4 still considering on avg. We repeated this strategy and tapped into a whole new audience and this was even more of a success, with a 50% lead to case rate.
They are now opening a new clinic and can't wait to build their patient base with some more for highly profitable treatments. Abbey House Dental have had a 5x ROAS with their implants campaign. They have been so impressed with KMG that they are now starting a general dentistry campaign with us.
If you have a practice you want to promote, give us a call today for more business than you can handle.