KMG were invited to and attended Facebook's Blueprint Live Event and also the Amplify My Agency event this month. These days asked:
"Why Creativity Matters More in the Age of Mobile – How can we as an industry break conventional norms and redefine storytelling and campaign planning now that the thumb is in charge?"
The event updated KMG with the most advanced and current strategies on the market for running the highest quality Social Advertising on both Facebook and Instagram. A combined strategy that leverages all channels for the lowest cost per outcome. In this blog we will discuss some of the more accessible insights that were shared with us across the two days. Some are only in Beta testing phase and were Agency exclusives! In this blog we will highlight the benefits of striving towards serving the highest quality creatives on Facebook and Instagram story advertising – and some cost effective Apps for achieving this for less.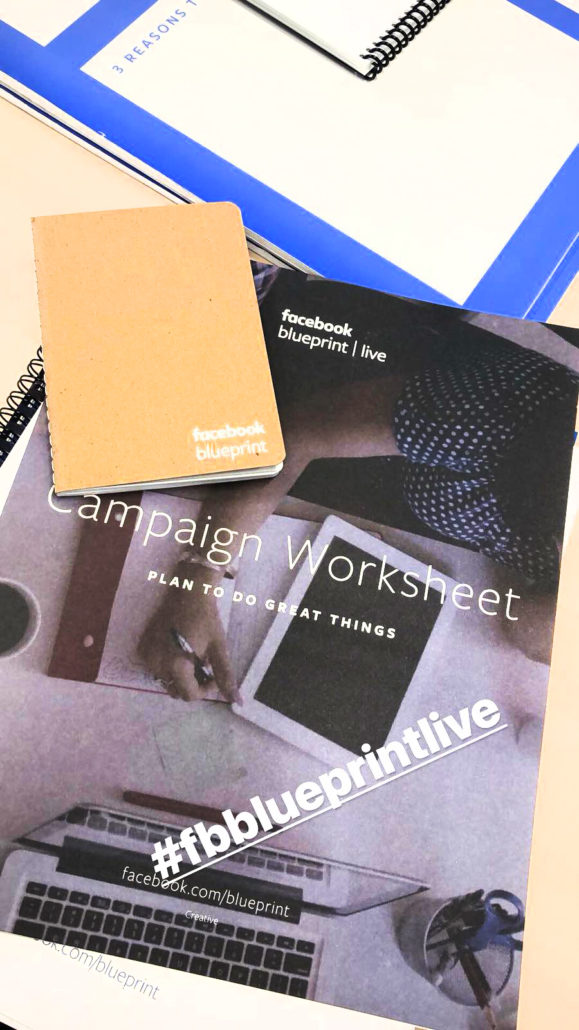 Video First: When putting together your Ad copy on Facebook, having a relevant, high resolution and eye catching image works best. It sees the best results. Especially, when these pictures are updated regularly to prevent the dreaded ad fatigue. (Ad fatigue is when a person has been served an advert so many times that their eyes glance over it without engaging with it). A high quality image, which is colourful and demonstrates clearly what service your advert is selling is more than likely to achieve higher conversion rates.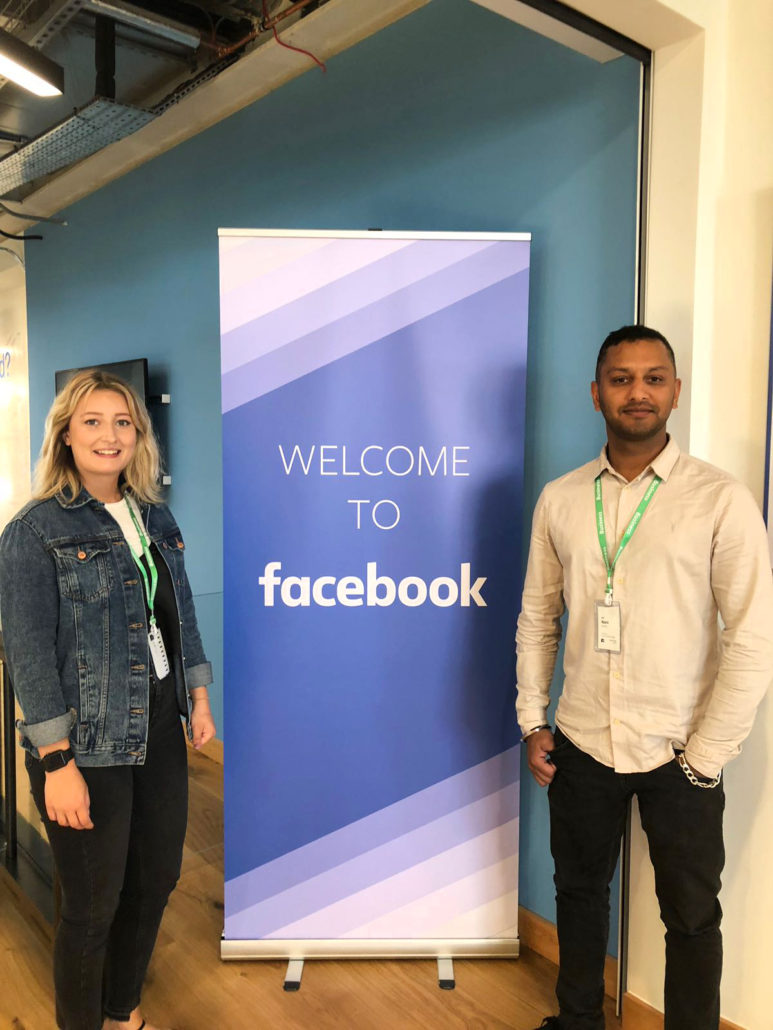 An even better practise is having your image have some sort of movement in them (Plotograph App). Perhaps animated text (Legend App), graphics, logos or template layering. Of course, Advertisers are limited to a 20% text limit on Facebook Ads. If an image can have a moving element or be made into a looping video (Boomerang App), Facebook declare that there is a significant improvement in Click Through Rate (CTR). Ad creatives that play with sequencing, targeting and new formats, are far more likely to stand out amongst the native content in a person's news feed.
Even better, and favoured in the Facebook Advertising Auction (so more likely to be shown) is if your advert creative on Facebook is purely Video. This can be costly to create, but then, you are in the optimum to gain the most impressions. Videos have a far higher engagement rate and are shown to be 5 times more likely to grab a user's attention and inspire action. The first 5 seconds of a video is paramount to it's success. It needs to be in this time that a business gets their message across, with a clear focal point, as people are scrolling faster than ever before. A video or a moving image is thumb-stopping. It is recommended that the video be no longer than 15 seconds in duration. Investing in quality assets on Facebook is often overlooked, but can see greater return on advertising spend (ROAS) through an improved CTR.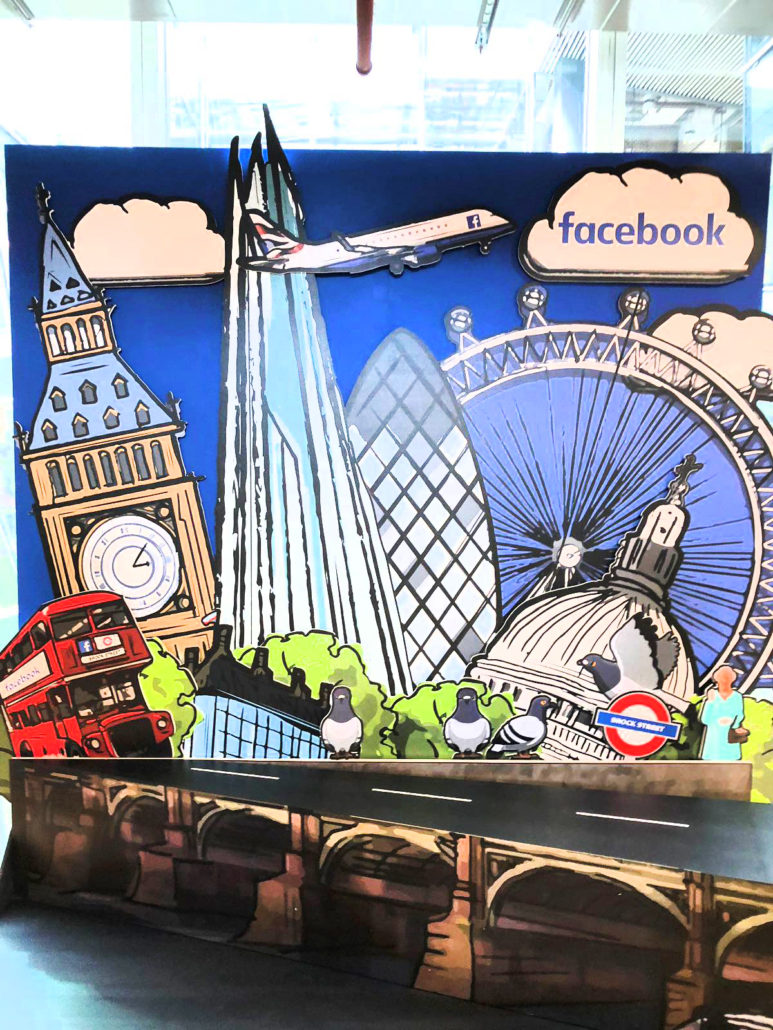 Instagram Story School: Next on the agenda was the Instagram Story School. There are 2 million advertisers currently utilising Instagram and over 25 million business profiles. From a user perspective, 80% of Instagrammers follow a business on Instagram. And with Instagram Story Advertising, creativity comes into play once again to build adverts that appear native amongst other stories. "Design for sound off, but delight for sound on" is the mantra at FB HQ at the minute. Meaning, most people watch videos on silent, so be mindful that the message needs to be conveyed clearly both with and without relying on sound. Start with your most captivating moments, tell your story visually, use text and graphics and play with speed rhythm and sound.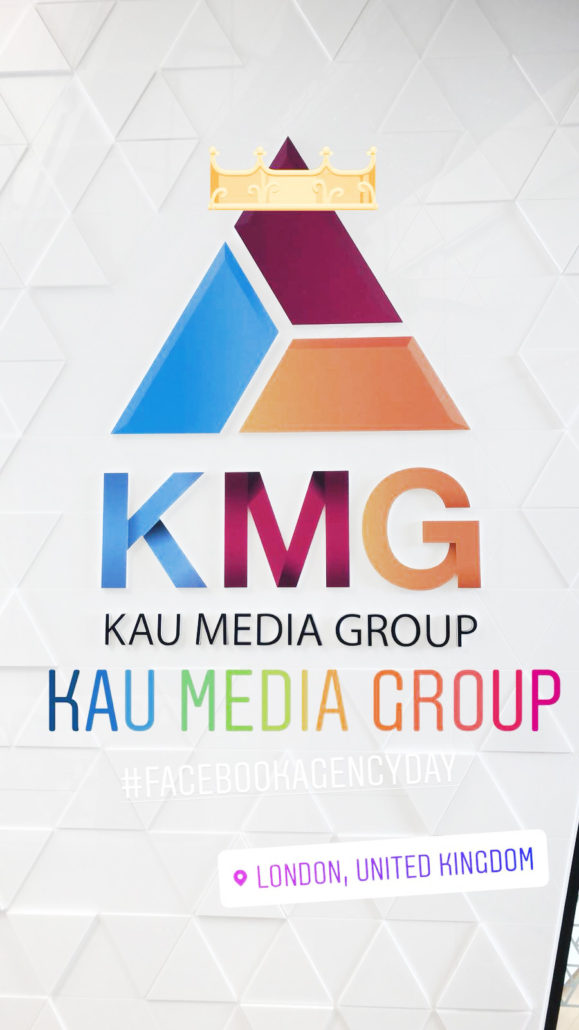 Caption: Check out our ombre text in our Instagram Story above! A brand new feature we were playing around with on the day.
If you would like to discuss creative Social Advertising with KMG, get in touch today.