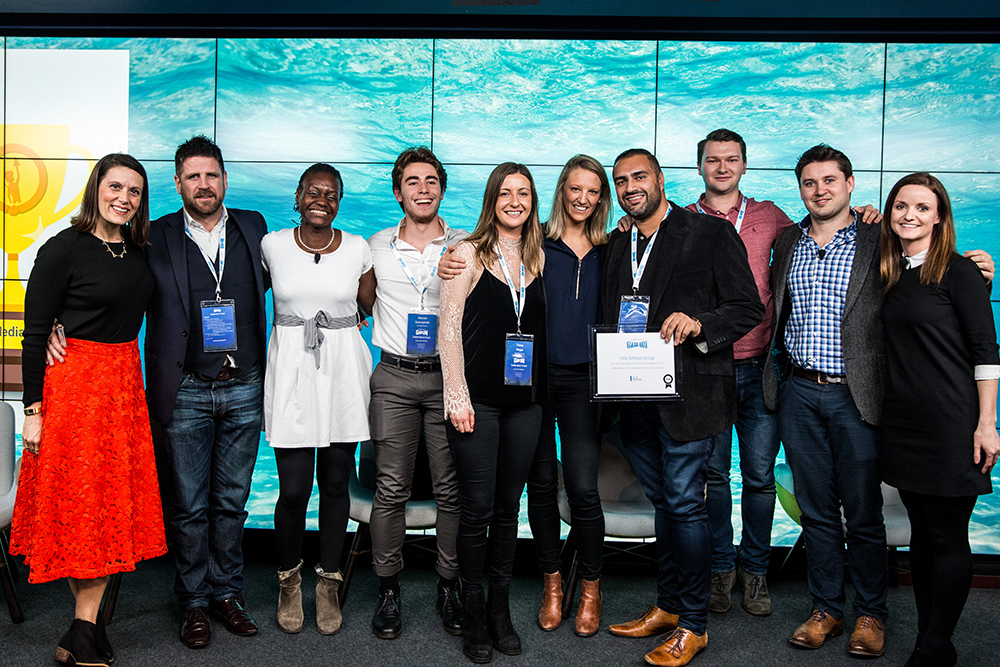 Performance Marketing Agency named leading provider out of 6000 Google Partners
KAU Media Group (KMG), the UK's fastest growing performance marketing agency, announces that it has won Google's flagship award for 'Top Performing Agency' at the Google Game On celebration event. KMG's total revenue for the time period was more than double the company placed in second. The awards were held at Google's office in King's Cross on 10th March and KMG were selected as the number one agency in the UK and Ireland out of 6000 Google Partners. In addition, KMG were shortlisted for the 'Rising Star' and the 'New Customer Advocate' awards.
Google's Top Performing Agency award is measured on a quantitative scale and recognises Google Partners demonstrating significant new business acquisitions, a growth in advertising spend and the ability to sustain and grow its client base. Throughout its first year of business, KMG has significantly increased its Google advertising spend and helped clients of all sizes to reach their end user with a variety of digital advertising techniques.
"To receive Google's top award out of the 6,000 agencies in the UK is a huge achievement which the team at KMG is incredibly proud of. The quality of service that we deliver to our clients is driving our success and it's that quality of service which has helped KMG maintain a 97% client retention rate," said Kashif Khokhar, CEO of KAU Media Group. "Since launching we have gone from strength to strength, growing our varied client base of SMEs and larger businesses. Our technology ensures that clients have full transparency of their return on advertising spend (ROAS), we provide them with a different level of strategy and expertise that is unrivalled in the market."
This announcement also follows KMG's recent certification as a Google Premier Partner, a status held by approximately only 200 other agencies in UK and Ireland. This additional certification acknowledges KMG as a leading agency having demonstrated AdWords skill and expertise, met AdWords spend requirements, delivered agency and client revenue growth. Google has recently introduced a tiered structure; Blue Badge which signifies a certified Google Partner, and Red Badge for Premier Partners which recognises the leaders in the field. Premier Partners are handpicked by Google itself and the organisation can remove certification if an agency's performance and growth decreases.
With a client base ranging from local businesses to some of the largest enterprises in the country, KMG provides them with a level playing field in the digital performance marketing and advertising space. There are over five million SMEs in the UK, highlighting the high growth-potential for performance marketing agencies like KMG. In such a competitive market, KMG has differentiated itself by providing clients with a tailored, premium service which can adapt to their budget constraints and requirements. Through its dashboard, clients can instantly see the effectiveness of their advertising spend. Through constant analysis, the KMG team optimise campaigns to ensure advertising spend is meeting the ultimate goal of delivering new business.
The opportunity for businesses to position themselves in the shop window has never been higher. Today there are over 2.5 billion users of Google Search and in excess of 100 billion search queries per month. As a result, firms are challenged to position themselves across the digital landscape by optimising their performance on search engines and social media channels through a variety of methods. KMG's approach to performance marketing provides clients with enterprise level bid management technology and strategy, resulting in one of the highest retention rates of any agency in the UK.
About KAU Media Group (KMG)
Launched in 2016, KMG is a full service agency that deliver compelling digital performance marketing solutions. KMG's winning solutions and experience helps to deliver great results across several key areas; search engine marketing, search engine optimisation, social media marketing, display marketing, SmartChat and website design. This combination has helped many of its clients to interact and engage with customers in a new and better way. A certified Google Premier Partner, KMG was founded by Kashif Khokhar, Abid Masood and Algomi co-founder, Usman Khan.
Source: http://finance.yahoo.com/news/kau-media-group-wins-top-100000250.html