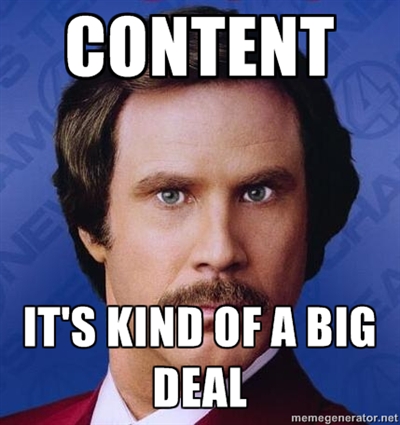 Content is King. Whether you've heard this phrase or not, you should know why it's important. The factors that determine where your website ranks on Google's search results are changing as algorithm updates evolve and new ones are introduced. These updates focus on improving user experience and a large part of this experience relies on website or blog content.
Take the leap
If you finally decided to get your business online and invest in its enormous capability – great but where have you been?! If only growing your business online was as simple as paying top dollar (or pound) for a flashy website but it goes a little deeper than that. Just because your site is now live doesn't mean it's going to be seen. Who do you want to see it? Search engines and humans.
Mix it up
Content comes in all shapes and sizes, it is not only written. By incorporating material like videos, infographics (a visual display of information or data) you are cementing your words and increasing the chance to engage potential customers. Anything interactive gets the thumbs up! These formats are changing the way information is communicated. Think about what may draw your attention to a webpage or blog and who your desired customers are, what they might respond to. No-one knows that better than you.
Keep it real
Your blog is an extension of your website so ensure it is of the same standard, with an equal amount of effort having gone in. Let it be a space to show some personality, have an opinion, ask your audience questions and inspire discussion. Original content is going to score points with readers and Google. Need inspiration? There are plenty of sources available on the web, and if that fails – outsourcing someone to help is better than rehashing the same topic over and over.
Remember that with great content comes great power. You and your keyboard have the ability to teach, inform, influence people's thoughts and actions – do so wisely!