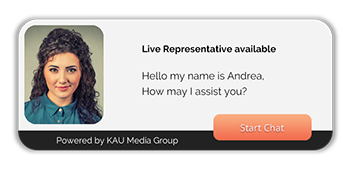 Are you missing out on potential conversions because your website does not have Smartchat? KMG Smartchat is our live chat tool technology that on average gives businesses a 30% increase on their conversions.
In the next 500 words, I will try to convince you that Smartchat really is the most cost effective, useful and easy method of engaging directly with your future customers and procuring quality leads.
Let's imagine: someone has made it onto your website or landing page, a victory considering the thousands of pages presented to them- nice work! They are in the 'research stage' of their buying journey, but they can't find the information they want within a few seconds of arriving on your site. The potential customer can't seem to find the price of dentures, they can't work out whether your company offers a monthly payment plan for their pet's treatment, they don't know whether you deliver to Wales, whether your firm represents victims of identity fraud, so they bounce back to the search results and click on a different site. Forgetting your website and your brand all together– how sad. You were so close, you may have even paid for that wasted click and even more annoyingly, you do offer the service that the customer couldn't quite find out.
If only someone was on hand 24/7 to answer any questions and queries in real time, to bridge this information gap. How helpful that would be and how impressive to offer such a personal service. This rapport with a named representative builds a person's confidence with a brand through direct engagement.
If the customer wants an additional service that the chat agent cannot provide, they can use the call feature to directly connect the customer to your business's direct line. This makes it far more likely that they will convert when their questions are being answered. If these leads are followed up quickly, Smartchat can only improve the return on online advertising spend.
Questions can be answered without the customer having to change device. It allows them to bypass chasing answers on the phone, being placed on hold and being passed from department to department. A real drag and a negative experience for someone wanting quick answers.
Smartchat streamlines the customers journey. The chat box pops up on the screen waiting patiently to be engaged with.
People are so familiar with text based communication in everyday life, through texting, WhatsApp and emailing, that Smartchat is a natural extension of modern digital life. Perhaps your browser is at work so being on the phone is not practical for them. Maybe they are on the bus, luckily Smartchat can be optimised for mobile. Maybe their question is of a sensitive nature – Smartchat offers unrivalled privacy that avoids the embarrassment of the user.
Smartchat is the only marketing tool that keeps your business active after hours, for those evenings, in front of the TV scrollers.  And why miss out on leads over the weekend when you don't have to.
The most exciting part of Smartchat, is that it is a Cost per lead product. This is so unique and a no brainer commercially. It means that you only pay when you get a lead. KMG Smartchat gets your business vital conversions 24/7, with real people answering customer queries on your behalf. And you only pay when you get a lead.