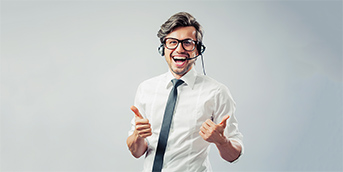 When we call you, we know twenty other people have already tried that day.  We know that those other twenty people have found your number on a spreadsheet of data and reeled off the same tired script. You're as rehearsed as they are with your answer – 'Thanks, but no thanks'.  Repeat ad nauseum.
So, what makes my call different?  At KAU Media Group, our consultants are exactly that, consultants.
We're not your typical sales people. It is not in our interest to ram a pitch down a potential client's throat. We are certainly not those infuriating callers that lack integrity and any knowledge of your business or industry.  We do know your industry, and we know it well, that's why we called.  We carefully selected your business before we call. We already identified it out of hundreds as one that we could help grow. After all, KMG Performance Marketing relies on mutual performance and growth.
Whether it is paid search help, paid social expertise or SEO knowledge you need, we already have the answers.
You see, when our digital consultants 'cold' call you, it is not really a 'cold' call at all. More like a 'lukewarm' call. We have already put in the groundwork before we dial your number. We have researched it all. We know who you are, and who we want to speak to, and quite often the history of that person.  We know your competitors, we know your offering, but most importantly we know your market.  We know who they are, where they are, what they want, and how and when they want it. We already have a wealth of data as we are helping your industry succeed already.
We also like to be the best.  According to Google we currently are, and we plan to always be.  We can only do that by getting amazing results, across the board, consistently. We are calling to help.  Genuinely.  We're hugely experienced at what we do, and hugely knowledgeable.  And it goes much further than just how to write a good AdWords headline or label a photo with the right meta data. We consult on how to position your business, your website, the language you use and your branding in front of the customers that convert. We make your clicks work harder for you, by driving the clicks that matter. The clicks that count to maximise your ROAS.
You might have a good website, but your customers can't find you.  Or (more often than not), you're doing some AdWords, but badly.  And we can tell just by looking.  So, we are calling to find out about you and whether you are a good match for us.  At KAU Media, we're responsible and more importantly, accountable, for the results of your entire campaign. You benefit because you get the business you always knew was out there and can start ticking off the goals you had, and we benefit by retaining a happy client. We want to uncover people with the right dreams, and the blueprints in place to make them happen.  We want to find out where you are on your journey and if you want the right things.  We look for long term partners, not just numbers.