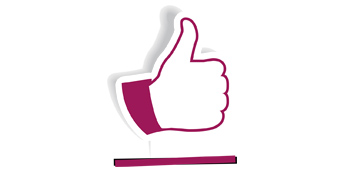 It's 2021, and a scarily large amount of human interaction now takes place online. For switched-on businesses, this presents new opportunities for growth. So perhaps your business has a Facebook Page, and occasionally you post from it. This is great but will those likes and shares turn into tangible results for your business? What if they could?
Social Advertising is ultimately paying for ad placements on Facebook, Instagram, Twitter, LinkedIn, Snapchat and more. It is an essential part of any comprehensive digital marketing strategy, and can be an incredible tool to engage new and existing customers. If you're not using social media to reach your customers, you can guarantee your competitors will be, and reaping the rewards in doing so.
But social media is free – why should I pay for it?
Social Advertising can target whomever you choose. KMG can build up audiences based on the behaviours, interests and demographic information of your potential customers. You want to target Females, 18-24, in London, interested in jewellery? No problem.
Even better, if you have existing email lists or website visitors, we can use them for re-targeting.
KMG can even create what are called lookalike audiences to target people just like your existing customers.

Why not just focus on in-market customers on Google?
The targeting that Social Advertising allows means customers are in the market for your kind of business already! When your ad appears in their feed, alongside their friends' statuses and shares, it appears as native content.
This means it will look and feel like part of your customer's news feed already. The more creative you are, the more likely you are to engage and convert your customers. Social Advertising allows you to deliver creative, niche marketing campaigns rapidly and at scale.

How do I know if I'm getting value out of it?
Like PPC, social advertising campaigns are 100% trackable. There are now billions of unique ad placements available every day on people's computers, tablets and smartphones. Algorithms will work out which individual placement is most likely to result in a click, lead or sale for you.

How do I get started?
To get started with paid social, we recommend having a single, clear goal of what you want to achieve – increasing sales of one particular product or service for example. Set aside some budget for testing, and when you're getting good results, we can quickly scale this up.
At KMG, we run top-quality paid social campaigns across all channels, with particular expertise in Facebook and Instagram. We know what makes a great ad and how to structure your audiences effectively to achieve results. This means that every £ you spend is helping to drive you leads and sales by showing your ad to the people that matter. 
Contact KMG on 0203 368 8556 or info@kaumediagroup.com if you want to explore your Social Advertising strategy.